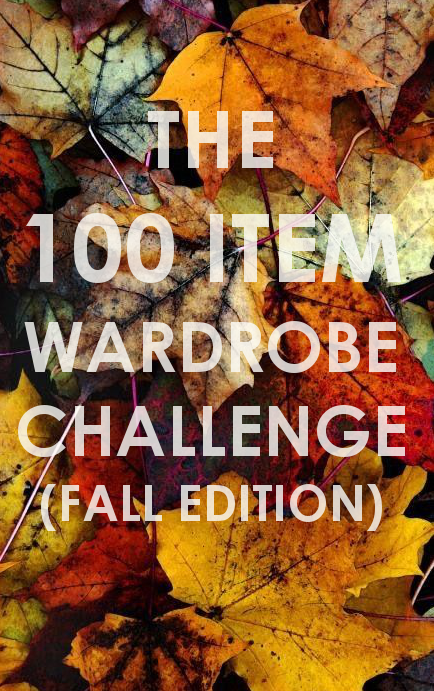 There was a time in my life when everything I owned could fit into my car.  I lived that way for a long time.  Then I started traveling, and paradoxically that seemed to go hand in hand with accumulating.  I didn't think much about it and I was pretty happy with all my lovely things until we decided to relocate from Los Angeles to Atlanta.
By the time my husband and I moved in to our new home, I had more or less forgotten how much actual stuff we owned, because there had been a three month delay in between the packing in LA and the unpacking here in Atlanta.  To summarize: I lived in LA almost 20 years, most of them as a single gal in a tiny little rent controlled apartment in Santa Monica.  Then I met my husband and we moved in to a bungalow together after a few weeks of dating. Three years later — in May of 2013 — we got married.
That same month, we moved out of our home and packed the car to drive across the country to Atlanta.  But owing to a few roadblocks, we ended up delaying the move and had to spend the next three months depending upon the kindness of strangers (well, family) and living out of one suitcase before we finally made it to Atlanta.  Finally, on September 1, we moved in to our new home in Inman Park.
A week later a truck dropped off two pods, crammed full of our worldly possessions.  I had thought I'd throw open the doors and be overwhelmed with joy to see all the comforts of home that I had been missing.  Instead, I felt completely suffocated. As we started unpacking and carting everything in to the house, suffocation turned into a rising panic.  I started to stress out about where everything would go and how it would all fit into our house.  I had thought that after months of living out of my stinky duffel bag and using other people's kitchens, beds, sofas, and even workout clothes I would be happy to have my own stuff around me again.  Instead, I felt queasy.
Many years ago I went to Africa for an extended period of time to film a movie on Mt. Kilimanjaro.  At some point during the months that we were slogging up and down the mountain, I started to fantasize about two things: a hot shower and peanut M&M's.  I thought about them all the time and during the nights that I was freezing, barfy or miserable I would think how great it would be to have them.  Finally, we wrapped the project, everyone went back to a hotel in Arusha, Tanzania, and I got to take a hot shower.  It was, of course, heavenly.  But after about 10 or 15 minutes of standing under the hot water and scrubbing red dirt and mud out of every pore and shaving off my fur, there wasn't much else to do.  I got out, toweled off, and went out to a boozy celebratory dinner.  So that was that. The next day I flew back to Amsterdam and then Boston, and when I finally touched down in Logan Airport I bought peanut M&M's and ate them in the cab on the way to my apartment in Charlestown.  They tasted exactly as I remembered.  That burst of chocolate and the crunch of the peanut was like a little miracle.  The first M&M was incredible.  The second one was also delicious.  By the third, I was used to them again.  After about 15 M&M's, I was sick of them but I soldiered on, doggedly eating one after another until I finished the bag.  I'm no quitter.  In fact, that same determination and stamina had helped get me to the top of the mountain despite the fact that at several points during Climb #3 I was actually puking and shitting simultaneously.  Sorry!  It's true.  I was gross.  Anyway, the point is that I had spent months dreaming about two things that were actually incredibly mundane.  Far more mundane than camping at 18,000′ or climbing a blue, Coloseum-sized glacier at the top of a mountain.
But of course, that's how it works: happiness is fleeting and no matter how incredible your present situation is there is always something else to want.  It was a good lesson for me, as I have learned to focus on where I am (be it hellish, spectacular or a little of both) rather than what my "reward" will be when I get through it.

Which brings me back to the mountain of stuff on the bed.
By the time we were packing up our home in Cali, I was recovering from a shoulder surgery and preparing for a back surgery.  I packed in the way one would if one could not bend, lift or twist — I simply had my husband pull out each drawer and upend it into a box.  And although I tried to sort and discard, I was not as vigilant as I could be.
And that's how we ended up with a stultifying amount of baseball hats, and this mess (the "socks n stuff" drawer):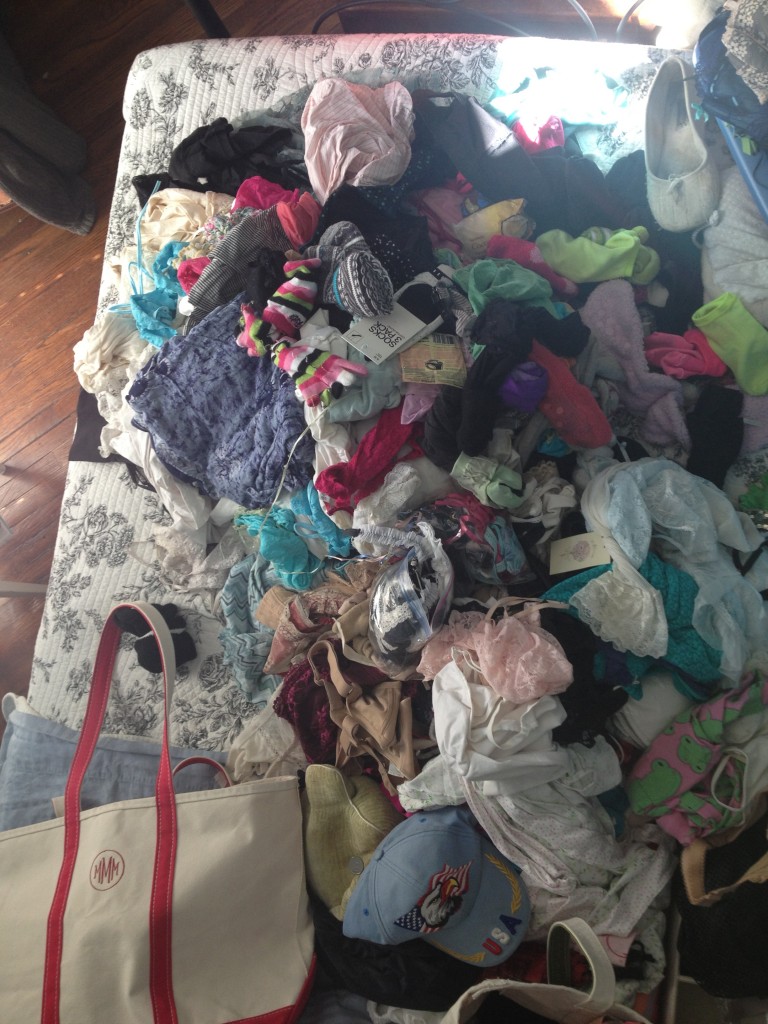 So here I sit, surrounded by boxes and boxes and boxes of clothes, shoes, boots, hats, scarves, jewelry, jeggings, leggings, Lululemon booty pants, sweaters, wraps, dresses, sweatshirts, old rock concert T-shirts, socks and underwear.  I refuse to put it all away.  I know for a fact that I don't need it, because I have lived this long without most of it.  I want to start fresh in our new home feeling free and light and ready for a new adventure here.
And so, I decided to once and for all do away with what has been dragging me down.
When it comes to de-cluttering your life and your wardrobe, most people have the same advice.  There are tons of great tutorials online and many inspiring stories.  I know, because right after I decided to whittle my wardrobe down to 100 items, I procrastinated for about a week and nothing but read other people's blogs instead of unpacking.  The Nif En L'Air is a gorgeous blog and the writer takes an analytical approach to her own successes and failures at honing her wardrobe.  And there's more inspiration here and here.
Most of the advice falls under the same basic principles:
1. Get rid of it if it doesn't fit, you don't wear it, or it's damaged
2. Pick your color palette so that everything goes with everything
3. Buy classic, high quality pieces that you can wear again and again
That's great advice, but I struggle with #2.  I don't want a wardrobe that is all gray, red and black.  Or all pastels.  I love deep jewel tones and unusual clothes.  I would get monumentally bored wearing the same "classic LBD" every day and only changing out the scarf or the jewelry.
See…my ability to rationalize anything is my second greatest skill, after my dogged determination.
I decided the only way I could make the 100 ITEM WARDROBE CHALLENGE work would be if I changed the rules a little bit to make sense to me…
Coming up next: new city, new style, new rules…