It started with a plumble (plum crumble).  Then pineapple-nectarine upside down cake.  Then it was a fig-plum tart and fig cake.  The fig tree in this yard produces so many figs that for about a week the squirrels and I looked like this: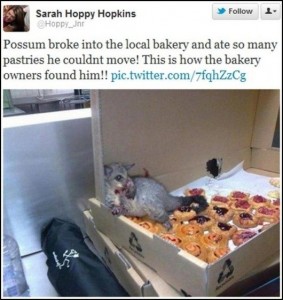 Even with the gorging, I was throwing away about 10 figs a day.  What a travesty!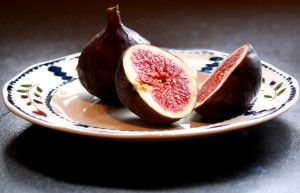 I absolutely love fruit trees.  My dream home will have lemon, lime, orange, tangerine, fig, peach, avocado and apple trees.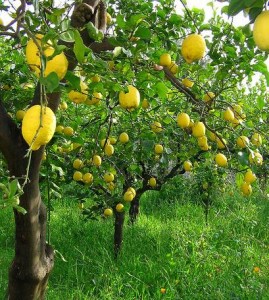 Just add it to the list of when-I-grow-up.
Speaking of backyard fruit, I whipped up the Orange Creamsicle Cake and then moved on to cookies.  I found a new love.  Caramel Chocolate Chip Cookies…oh Lord.  I made two batches of these, tweaking the recipe slightly, and ended up with perfection.  The key is to beat the butter and sugar for almost 6–7 minutes until it is super fluffy before adding in the eggs.  The resulting cookies are chewy and delicious with hunks of caramel and chocolate all mixed up together in a circle of wonder.
See, the problem is that I am recovering from back surgery and all I'm allowed to do is lie down or stand up.  Sitting, driving, sports, work, travel and driving are all out of the picture for now.  I can't watch any more TV as my brain has already atrophied into a pile of oatmeal.  I'm just floating through life like a tubby seal.

AND I'm recovering at my sister's house and she has a huge, beautiful kitchen.  Since sitting, driving, sports, work, travel, driving, etc are all out of the picture, I figured I'd keep myself occupied by cooking.   Then it was on to sugar cookies, using Martha's recipe.  I wanted to make the kind of big, sugary cookies that you get at a bakery.  I made half a batch and then slightly modified them to make giant Snickerdoodles.  Grab a cookie, a good book, a glass of milk and I'm in heaven on the back porch.
Chocolate cake from scratch with peanut butter frosting…
I tried to make a marshmallow whip to inject in the cupcakes and make a sort of Hostess devil dog thing but the cake ended up absorbing the fluffy filling.  These will require another round of testing.
Salted caramel biscotti.  I loved this, even though I did something wrong with the recipe.  I used some flour from the cabinet (this is not my house, so some of the unmarked items are a mystery) that turned out to be really peppery.  Weirdly, it ended up making them even better…salty and sweet and peppery and chewy and crumbly at the same time.  I could never replicate them even if I tried.
As long as I'm stuck here under doctor's orders, the baking frenzy continues.  It's been really fun cooking for a house full of people and I'm making the most of it!  Once I am well enough to travel and PCA and I finally make our cross-country move, I'm going to have to slow my roll a little as this kind of sugar overload cannot be sustained for long.  But oh what fun it's been…
What should I make today?
Recipe credits list:
Plumble (my own recipe)
Pineapple-Nectarine Upside Down Cake (my own recipe)
Fig-Plum Tart (my own recipe)
Orange Creamsicle Cake — via Kat's Sweet Somethings (with my modifications here)
Caramel Chocolate Chip Cookies — via Two Peas And Their Pod
Sugar Cookies — via Martha Stewart
Chocolate Cake with Peanut Butter Frosting — via Smitten Kitchen
Salted Caramel Biscotti — via jellytoastblog