Right outside my window is a small slice of blue sky and an orange tree that is so filled with fruit that the branches barely move in the breeze.  About every five minutes or so an orange falls on the ground with a satisfying "thwock" that sounds just like a fly ball being caught in a mitt.  A red hummingbird feeder hangs from the branches of the tree and all day long two hummingbirds (named Fig and Newton) stage turf wars.  Beyond their haven is a lovely Black Mission fig tree that is also a battleground; it is the site of the war of attrition that I'm waging with a neighborhood squirrel over the ripening figs.  This view is what I see from my bed, where I have been laid up for twelve days now recovering from back surgery.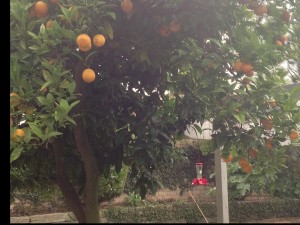 I spend almost 20 hours a day in this bed, flat on my back and wearing a back brace, so it's a view that I know well.  Luckily, there is plenty outside to keep my eyes and my mind occupied and today I started thinking about making an orange dessert.
Why doesn't anyone make orange pie?  It seems like it would be delicious…a nice orange meringue or an orange peach combo on a flaky crust.
Anyway, I came across a recipe for Orange Creamsicle Cake and it seemed the perfect thing to make on a hot summer day.  Between the long cooking times, cooling periods of the cake and my many breaks, this became an all-day project.  More ambulatory folks could make it in a mere 2 hours.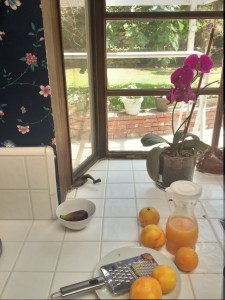 I used to LOVE Orange Creamsicles and orange sherbet when I was a kid.  Our mom used to bring home cartons of orange sherbet and pineapple ice cream.  When you opened the carton — those old-school box style ones with the flaps that got all messy and never closed right — the ice cream was in perfect squares.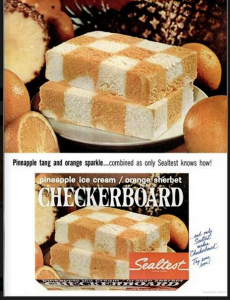 I think our brand was the generic version from Safeway or Angelo's or one of those other 1980′s Massachusetts grocery stores.
Anyway, on to the dreamy creamsicle cake.
I decided to adapt a recipe I found online on Kat's Sweet Somethings.  Her original recipe is here, but I was missing cake flour and orange extract and since I can't drive yet I have no way to get to the store.  I figured I'd work with what I have.  I also wanted to add extra orange flavor, so I soaked the cake in an orange-honey mixture to make the layers moist and flavorful.
It turned out really great.  The cake was dense and heavy with an intense orange flavor, and a fluffy, light frosting.  It tasted just like a creamsicle and the vanilla-orange combination was perfect.  Here is the recipe I used:
Orange Creamsicle Cake
2 sticks unsalted butter, softened
zest of four large oranges
2 cups sugar
6 eggs
3 cups cake flour (I didn't have cake flour so I used the conversion of 3 cups minus 6 tablespoons of all purpose flour)
1 tbsp baking powder
3/4 tsp salt
1/2 cup sour cream
1 cup fresh orange juice (with 1/4 cup reserved for soaking)
1 tsp vanilla
1/4 cup honey
3-4 gingersnap cookies (optional, for decoration)
1. Grease two 8″ cake pans and line the bottoms with parchment paper.  Pre-heat oven to 300 degrees
2. Using the paddle attachment on your stand mixer, beat the butter with the orange zest until fluffy.
3. In a separate bowl, combine the flour, baking powder and salt and whisk together until mixed.
4. Add the sugar to the butter mixture in small batches, mixing thoroughly before adding the next batch and scraping down the sides.
5. Add the eggs one at a time to the butter-sugar mixture, making sure each egg is incorporated before adding the next one and scraping down the sides as you go.  Add the vanilla to the butter-sugar-egg mixture.
6.  Add 1/3 of the flour mixture to the wet ingredients and mix until just combined.  Then add half of the sour cream and half of the orange juice and mix until combined.  Add another 1/3 of the flour mixture, followed by the remainder of the sour cream and orange juice, finishing with the remainder of the flour mixture.  Be careful not to mix too long.
7. Pour batter into pans evenly and bake for about 60 minutes or until cake pulls away from the sides of the pan.  Allow cake to cook completely.
8. Optional: Mix together honey and remainder of orange juice until honey is dissolved.  Poke a few holes in the top of the cooled cakes and pour the orange juice-honey mixture over them.  This makes the cake dense and adds even more flavor, but I imagine it would be just as good without it.  If you do decide to add the syrupy mixture, place the cakes in the fridge for at least an hour to allow it to soak in fully.
Meanwhile, make the Fluffy Whipped Cream Cream Cheese Frosting (recipe below).  I opted for a plain cream cheese frosting rather than adding any orange flavor to it as it seemed a bit too over the top.
9. I figured I'd make this a four layer cake, using this method to cut the cakes with a long serrated knife.  The cakes will be sticky if you've soaked them with the honey-orange syrup.
10. Assemble your layers and frost with the icing.  Top with crushed ginger snaps.
Fluffy Whipped Cream Cream Cheese Frosting
1 1/5 cups heavy whipping cream
8 oz cream cheese
1 1/4 cups powdered sugar
1 tsp vanilla
pinch of salt
Chill your beaters and bowl, if possible.  Beat the whipped cream until it forms soft peaks.  In separate bowl, beat the cream cheese until fluffy, then add in the vanilla, salt and sugar.  Continue beating until creamy, then fold in the whipped cream.